Jeromy van Riel – Artist & Storyteller
Reading Time:
10
minutes
Jeromy is based in Lake Hāwea has lived in the Wānaka area for 25 years. Originally from Invercargill, his shared time in the Deep South and the Lakes District has allowed him access to the best two worlds.
Jeromy was taken in by the Maori community in Southland and was taught Te Reo Māori (Māori language) by recognised elders from the age of twelve. A love for stories, ceremony and the arts, lead him to search for the places that held the past. Rock paintings, moa bones and overgrown canyons became haunts alongside libraries, museums and classrooms.
Southland offered inspirational stone carvers such as Russel Beck and Don Salt (both curators at the Southland Museum) and examples like Roi Toia, Nathan Jerry and Johnny Penisula.
Working as a tool salesman in his 20's, Jeromy met many of New Zealand's leading carvers including, Owen Mapp, Rangi Kipa, Lewis Gardener, Ric Moor, Chris Charteris Brian Flintoff and Clive Fugal.
Pounamu claimholders and gold miners from pre-2000 still had lots of stone and were happy to share and trade. Russel Beck also passed Jeromy some beautiful stone and therefore those relationships allowed Jeromy to gradually build up his stone reserves.
Jeromy is cautious about how he interprets the story he is telling. His stories are of the world, of the soul, of mankind and are carried using the symbology and language he knows to best fit his concepts. Jeromy's work is ancient and in specific to time and place but the stories are uniquely Aotearoa in perspective.
A rich and varied life has developed Jeromy's work to speak of connections and each stone carries a message, carries a prayer and they hold an energy intended to suit the intended wearer.
Jeromy has worked as an artist, teacher and guide. He is currently completing a master's paper researching the power and politics imbued in storytelling.
Jeromy offers stone carving workshops and boutique tailor made tours. Jeremy shares his stone stories with us below.
Ka pō ka ao.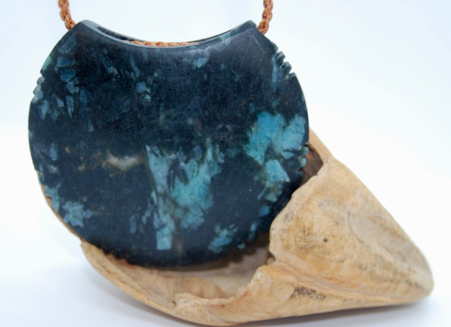 From the world of potential to the world of manifestation.
Aotea, (NZ Kyanite, Fuschite)
Height 50mm x Width 58mm
Ao- Day/ world/ present
Tea- Clear/ bright/ white
Powerful blue shards of Kyanite burst from chatoyant black Tremolite like an eclipse of the sun. The breakthrough of a bright new day pushing ancient lines that divide time itself from its powerful blue heart just as the children of Earth and sky did so that we might stand in the understanding of true light and infinite growth. Tīhe i mauri ora!
The stranger, Tauhou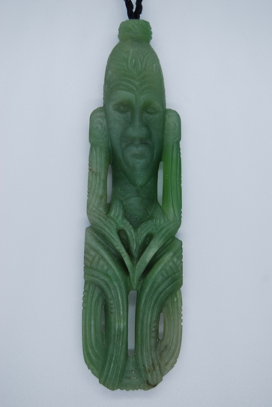 H 108mm x W 30 mm
Kahurangi Pounamu, Nephrite, Jade. (Aotearoa)
The ancestors observe from afar. Still creating, projecting, offering or taking. In that space they belong to us all and we to them. Marked with lore and sacred passage into times both forgotten and anticipated by us in the present. They do, as we will learn to do, belong in a state of being both the ancestor and descendant whilst able to identify as the self. The architect: creating a creation of the creator creating himself. Emerald green, flawless nephrite of the highest quality, has been left to allow light and darkness to move through a sharing of space and time. So spoken, new perspective reverses our idea that the body creates the form and we begin to understand that the value of a substance is measured by what has been taken away. Who we are lays in the spaces between our history and our potential.
Pōria Aotea .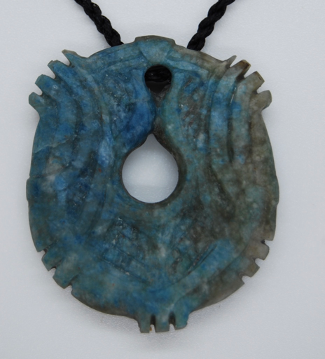 Height 45mm x Width 40mm
Aotea : kyanite
A pōria is a ring that was used to keep pet birds tied to a perch.
These birds were often cherished as entertaining pets by chiefs and given as gifts by lovers.
This stylized pōria carries the spirit of a swooping bird that shields the heart and amplifies the throat chakra with deep blue Kyanite sending its song back into the heart. This stone is Aotea, the clear bright day and carries with it a mix of Fushite and Kyanite thought to be found at only one place in Aotearoa. This stone is highly sought.
Pōria Tangiwai .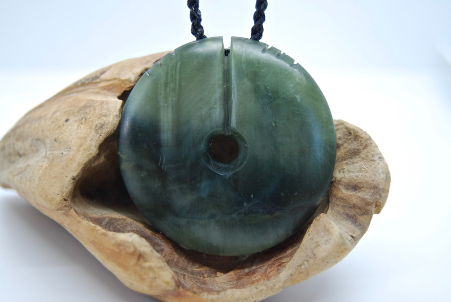 Tangiwai pounamu/ chatoyant bowenite jade.
The poria was a ring used for holding a pet bird. Often this ring was seen with notched extensions that showed the artisan's conscious thought to ornamentation, such thought not given today for the likes of the leads or chains we use. The regular design of the pōria always reminded me of the sun and the notion of keeping a pet reminds me of care and affection. The marriage of the two concepts work to form a tangible memory of warm happiness kept in bonds of affection. An image of keeping the sun as a pet bird that sits close to the heart. The pictures shown on this stylized pōria are reminiscent of the sun on wet sand. How it ripples and moves like the tides of the sea itself. A space to get lost in, fascination and adoration. The sky, the earth, the sea and us. We breath, we are as one in the sacred space of breath. Aroha atu, aroha mai, Love in, love out. We share an awareness towards the divine breath that connects us all.
whitelawmitchell